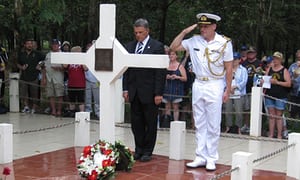 This trip is specially designed for those interested in the American, Australian and Kiwi veterans during the Vietnam war. Although extensively documented by the survivors of Australian's heavily engagement of the war, little is known of the Viet Cong's actions.
From this trip, you have a chance to visit former battle fields such as Long Tan Cross, Nui Dat SS Hill and Long Phuoc tunnels. Our clients find that bringing the former protagonists together with a good interpreter and a plenty of rice wine is an unforgettable for both sides.
-> Pay respect at the Long Tan Cross Memorial
-> Nui Dat SS Hil
-> Long Phuoc tunnels
-> View the former site of Horseshoe FSB
-> Visit famed ANZAC battle sites in Vietnam
-> Vung Tau Sight-seeing
Enjoy a convenient 1 hours trip by Car from/to Phu my port - Long tan Battle with VN RENT A CAR. We offer car rental with driver from Phu My Port to Long tan Battle and Vung tau surounding. Book now for best offer:
Type of car
Brand/ Capacity
Car rental fee (USD/car)
from Phu My port to Long tan Battle, Vung tau
Booking
Ford Sedan
Economy, 4 seats

$ 120

Book now

Nissan Sunny
Economy Sedan, 4 seats

$ 125

Book now

Toyota Innova
MPV, 7 seats

$ 125

Book now

Toyota Camry
Medium Sedan, 4 seats

$250




Book now

Mercedes E Class
Medium Sedan, 4 seats

$350

Book now

Mercedes S Class
Medium Sedan, 4 seats

$690

Book now

Ford Transit
Medium Van, 12 seats
$135


Book now
Service includes:
- Gasoline, toll fee, parking fee, all expense for driver.
- 24/7 customer support: +84 964 058 978

- English and Experienced driver.
- Meet & greet at the airport
Service Excludes:
- English speaking tour guide
- Meals, mineral water
See the Map: