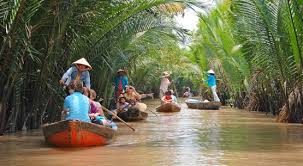 A path of your package tour in Ho Chi Minh City is one day tour to visit My Tho, Let enjoy one day tour with our car rental service and English speaking driver, you will have a great emotionof Mekong delta.

My Tho sprawls along the bank of the northernmost branch of the Mekong River. Its proximity to Saigon has made My Tho the most popular destination for day-trippers who hope to catch a taste of authentic Mekong delta life. Here visitors can take a sampan along the waterways, visit orchards and try the local famous food of Elephant's Ear Fish.
Visit to the Vinh Trang Pagoda, which is the oldest and nicest pagoada in the area. Boat trips are the highlight of a visit to Mytho. Usually, destinations include a coconut workshop, a honey bee farm and orchard gardens. If time allowed, should not miss Vinh Trang Pagoda.
Trips to Mekong Delta are suitable all year round but the best time is the monsoon from June to September.
Car rental rates for HCM City - My Tho, Mekong - HCM City:
Type of car
Detail
Transfer fee (USD/car/day)
Booking
Nissan Sunny
Economy Sedan, 4 seats

$72

Book now

Nissan Sunny
Economy Sedan, 4 seats

$77

Book now

Toyota Innova
MPV, 7 seats

$79

Book now

Toyota Camry
Medium Sedan, 4 seats

$120




Book now

Mercedes E Class
Medium Sedan, 4 seats

$250

Book now

Mercedes S Class
Medium Sedan, 4 seats
$650

Book now

Ford Transit
Medium Van, 12 seats
$ 89
Book now

Service Includes:

• English Speaking Driver
• 24/7 customer service
• New and air conditioned car
• Gasoline, Driver Allowance and Accommodations
• Toll fee and parking fee
Exclusive of Entrance fee, English speaking tour guide: USD 30/day tour
Contact us: